DO YOU NEED MONEY TO START YOUR EDUCATION? Watch the video below to see how we can help!
Why Choose Advanced Welding School?
We provide a unique course format that equips you with the experience and certification necessary to get a welding job making an average salary of $64,480 in Louisiana.
Richard Hope
CEO/Founder
American Welding Society – Certified Welding Inspector, Certified Welding Educator, B. S. Degree in Finance from LSU. Welding since 1975.
Chief Administrator 225.445.6999
Ron Stockman
Vice President 
Ron has spent the last 25 years building strong relationships within the Louisiana welding industry: his main focus will be job placement for graduates. 
Miller Weld Process Training Level I and II. Lincoln Weld Process Training Level II. ESAB Welding Technology Course. B.S degree from ULM
John Downing
Welding Instructor
John Downing spent much of his career welding throughout the United States and overseas and brings over 41 years of real world experience to our school.
Mark Stephens
Welding Instructor
Mark Stephens spent 31 years honing his craft before joining us as an instructor at Advanced Welding School. 
Perry Person
With 33 years of welding experience starting in 1986, Perry Person brings valuable experience from the field as well as fabrication shops to his teachings.
Robert Smith
Welding Instructor
Robert Smith brings 23 years of welding experience in a variety of fields including Sunland Fabricators, Construction Turnaround Services, and Boilermakers Local 37.
Advanced Welding School, LLC 10340 Florida, Blvd Walker, La. 70785 is applying to become a candidate for accreditation with the Commission of the Council on Occupational Education. Persons wishing to make comments should 

either

 write to the Executive Director of the Commission, Council on Occupational Education, 7840 Roswell Road, Bldg. 300, Suite 325, Atlanta, GA 30350, or submit comments on the Council's website (www.council.org). Persons making comments must provide their names and mailing addresses.
Start your journey at AWS!
Apply Online or schedule a visit to see how Advanced Welding School can change your life and put you on the path to a new career.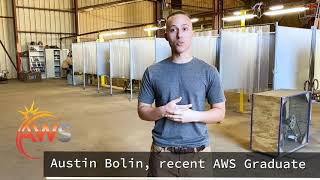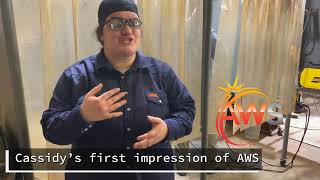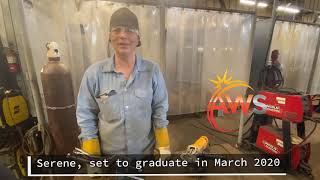 Austin's Testimonial
Cassidy's Testimonial
Serena's Testimonial