The majority of students who attend Advanced Welding School receive some type of financial aid or assistance.  Our team is here to help you navigate your choices and some of the options available to you are listed below.
There are many scholarships available to current and prospective welding students with varying requirements for eligibility including leadership and/or service in your community, financial need, special interests and much more. 
For information on some of the welding specific scholarships available through the American Welding Society visit: AWS Scholarships Page   
Click on any of the links below to explore current options:
VA and Vocational Rehabilitation Benefits accepted
We are now accepting applications from veterans who have received GI Bill Benefits for their military service.  Advanced Welding School also offers all service members an additional 10% discount over the already discounted multi-course options that we offer. 
For more details visit: U.S Department of Veterans Affairs
Advanced Welding School is now offering an Income Share Agreement to our Students.
Our ISA is a way to study now and pay your tuition after graduation.
Pay your $250 deposit upfront.
After graduation, pay 11% of total pre-tax income monthly payments, only when you're earning $2,500/month or more. 
Meritize student loans are a financing option that takes some of the focus off of credit scores and takes past academic success, military history and work history into account.
For more information on Meritize visit: Meritize Student Loans
Some students bypass financing and financial assistance altogether and pay for their tuition through personal savings whether is it their own or family members willing to help.
Personal loans are offered from a variety of lenders and offer a variety of repayment terms for individuals needing to borrow. 
These loans come from financial institutes such as banks and credit unions, with interest rates based off of the lender and your credit history.  In some instances if you do not quality for this type of loan, a cosigner can be utilized.
For more information about personal loans visit: Personal Loan Info
Start your journey at AWS!
Apply Online or schedule a visit to see how Advanced Welding School can change your life and put you on the path to a new career.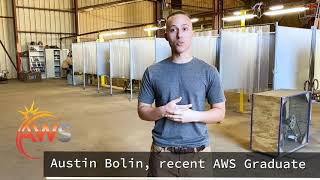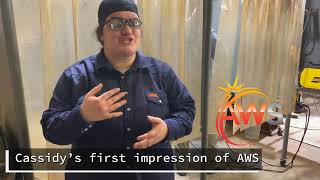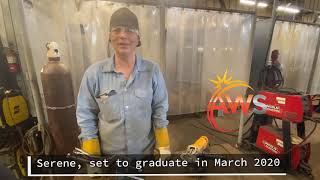 Austin's Testimonial
Cassidy's Testimonial
Serena's Testimonial